Hi there! Being on the Artistcellar Design Team has really inspired me. I have enjoyed being able to make new artwork on a consistent, regular basis. I liked stretching myself to use new materials and new designs.
I've learned so much by being part of this team!
It has been sooooo much fun! ♥
Today, I'd like to take a moment to share some of my favorite posts by the other Design Team members. You are so awesome!
Favorite Lori Wostl projects
Mondays are hosted by Lori Wostl. She has a very artistic style that incorporates collage and she shared many wonderful altered journal pages. I like Lori's sense of play and willingness to experiment and try new things.
I enjoyed Lori's post about how Princess Scheherazade of the Arabian Nights inspired a journal page. I love how the final page turned out and I think that the black and white doodling really made this page come alive.
I also really enjoyed Lori's stencil tangles, too! I need to put this on my artistic "to do" list!
Favorite Lori Batronis projects
Tuesdays are hosted by Lori Batronis. I love how honest Lori B is about artmaking and life and procrastination. About needing to be in the right mood to create and facing Design Team deadlines.
My favorite project of Lori's were these pears that she painted, glossed, and shimmered. They look so lifelike! She achieved very realistic colors.
I also really enjoyed this altered canvas about being a brave, strong, empowered artist.
Favorite Tammy Dial Gray projects
Wednesdays are hosted by Tammy Dial Gray. I like how cheerful Tammy is and how she expresses a place of hope and healing through her work.
My favorite piece of Tammy's is her Paris Cathedral Intricate Doodle. I could see this being a postcard at some art museum. I love the combination of the zen doodles with the color.
I love this adorable Love Birds house that Tammy made. Tammy also had a terrific post about using a color wheel that you shouldn't miss!
Favorite Rita Barakat projects
MiXeD MeDiA Fridays are hosted by Rita Barakat. She shared many upbeat, beautifully layered, mixed media pieces incorporating her fabulous portraits. I love the way she adds white and black highlights to the hair of the girls she draws.
One of my favorite pieces by Rita is a journal layout where there is a window in the center that opens. I love the amazing quote on the front: Be open to endless possibilities! And I really like the colors she used.
I also really liked Rita's creative mixed media wristband project. I love the handpainted flowers and the metal plate she selected. I can see why her daughter loves it! I sure would!
Favorite Patti Tolley Parrish project
Patti Tolley Parrish was a member of our Design Team for a while, before she moved on to pursue new opportunities. She makes gorgeous art journal layouts with lots of layers and drippy goodness. I especially enjoyed her Dylusion-al post with tips on "ghosting" stencils.
 Favorite Guest projects
Saturdays are hosted by guests. It was so much fun to see what these guest artists would post. It really mixed things up and added such variety!
One of my favorite guest projects was this Cardboard to Canvas piece by Carolyn Dube. I love everything about it. The colors, the textures, and especially the "happy accident" that led to the moon cutout.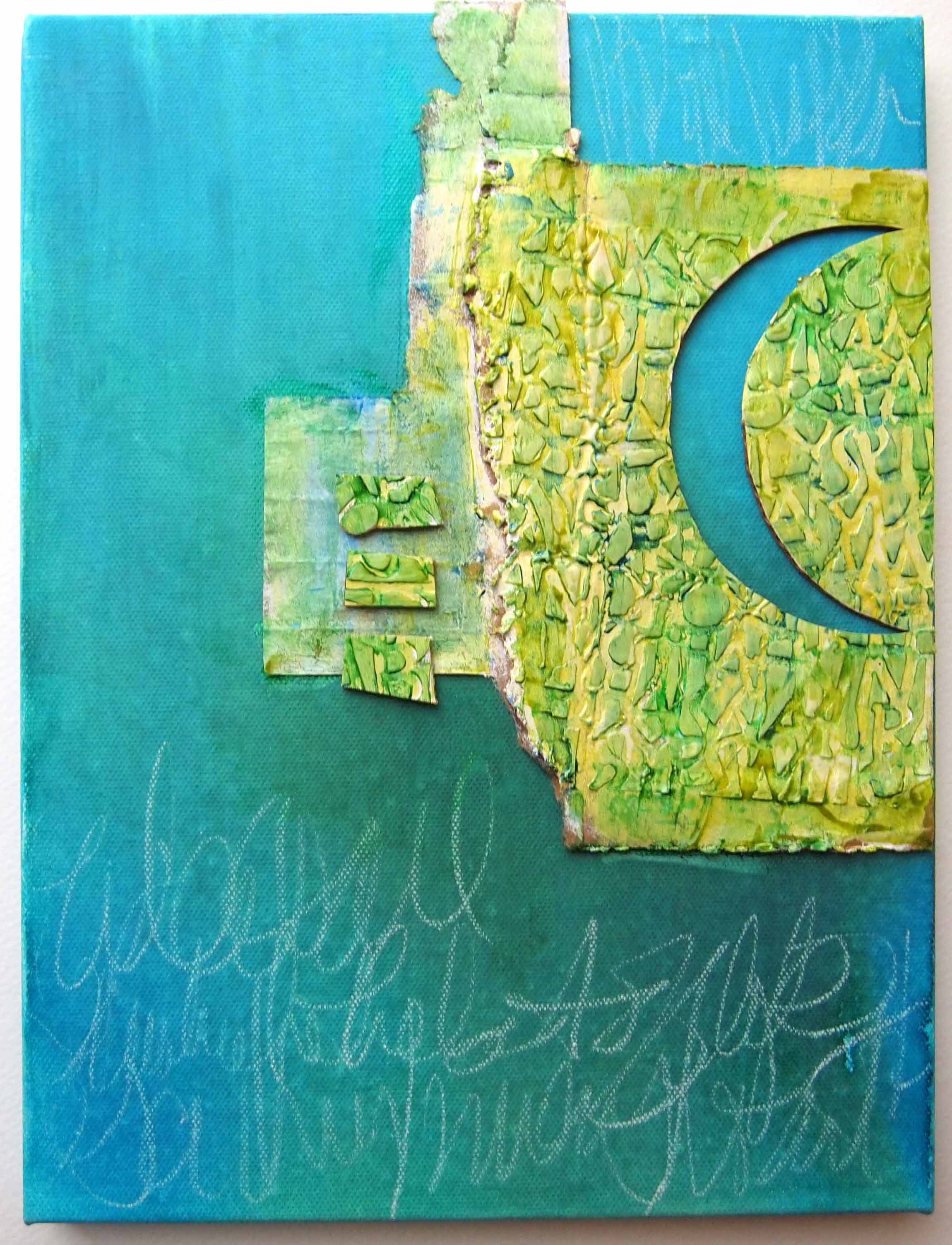 Another one of my favorite guest projects was this fabulous tag made by Patti Sokol. I love the wax resist, the yummy layers, and the addition of a personal photo and handwritten message.
I really did enjoy each and every guest artist and wish I could show images of everyone's work – but the post would be too long. Please know that it was very hard to limit myself to just two! I  appreciate the creativity each one of you brought through your guest posts!
Special thanks to Lisa for inviting me to be part of the inaugural Artistcellar Design Team. It has been such a pleasure! And thanks to all of you for stopping by!